Mumbai City's Ashok Leyland Single Cabin Double Decker BS-1 Diesel Bus
TRIBUTE TO THE SINGLE CABIN DOUBLE DECKERS! ?
---

From we, the creators of previously released Mumbai BEST Buses for the famous Android game amongst bus enthusiasts i.e. Bus Simulator Indonesia, this time we again proudly present to you - The strong, beautiful, majestic and now extinct another Mumbai's BEST Bus - The single cabin Ashok Leyland Double Decker Diesel bus! ?

Today we also create history!
For the first time ever today, an India's Double Decker bus has been made available to be played in any game! ???

Single Cabin Double Decker buses are now extinct from the world. Mumbai was last city to hoard these majestic machines which got scrapped just recently and none remain now. However Double Cabin Double Deckers still remain.

It is a sorrow that BEST could not manage to preserve one. Hence, as an initiative taken by us - Mumbai BEST and BUSSID lovers, we wanted the glory of this Single Cabin Double Decker to exist for long. Hence with the intention that these beauties should not be restricted only in photographs and every BEST bus lover should get to relive old memories by getting to drive one virtually and also customise it as per your desire, we created this model with utmost detailing by taking reality to the next level by using high poly parts and HD textures to give you an almost similar feeling and even for all of those who wished too but could not experience a ride in double decker bus ?

This is a hybrid model i.e. its a previous model of Double Decker but with styling of modern day existing Double Decker ?

There are two versions inside. The only difference between them is that in one version you will be able to drive from driver cabin view and in the other from upper deck front window passenger view ?

CREDITS -
Aditya Rane (Vice President - Bus for Us Foundation) - Exterior Body
Kim Patil - High poly body parts and HD textures
Rupak Dhakate (me) - Idea, entire editing and modification, creation of interior and dashboard, textures, liveries and conversion to the game.
Prathamesh Prabhu - Support, suggestions, beta testing  and promotional activities.
Nikhil Sham Kocharekar - Creation of Devanagari nos.
Members of BEST Bus Lovers community (Himanshu Mukerjee, Sahil Pusalkar, Anand Ashok, Sarkar Aryan Parthasarathi) - For their detailed and good collection of pictures used as reference and suggestions for improvement

FEATURES -
1. Usage of HD textures and detailed parts to make the model more attractive.
2. Realistic and well detailed Interior - Steel flooring, seats, rods, rod holders, handles, tubelights, staircase,etc gives a realistic feeling of the real BEST bus!
3. Glowing destination boards and interior - Destination boards and interior glows when you switch on the lights.
4. Properly functional lights  Working Headlights, Taillights, Direction Indicators, Reverse lights.
5. Fully functional and glowing dashboard - Functional handbrake, upper headlight, direction indicators and low fuel indicators. Properly functional Fuel, Speed and RPM needles. All of them glow when lights are switched on.
6. Raindrops on all windows and destination boards and properly working Wiper to clean them.
7. Living driver - Moves its head and hands along with steering wheel giving a real feeling of driving a bus.
8. Realistic passengers - Passengers looking out of windows. Mix of passengers right from senior citizens, middle aged and young, rich and poor, black and white, urban and rural with atleast one male and female in each category along with couples.
9. Passengers properly alighting and departing from the bus door.
10. Realistic but improved performance - Not much fast. Max top speed that can be reached on plain surface is ~128kmh. While descending from slope you can touch 139kmh. Proper acceleration, good handling and strong braking. Overall its fun to drive with good combination of all.

ANIMATIONS -
Cabin view :
1. Changeable destinations (Animation 1) - In total there are 2 destination boards and 2 route no. boards - Front and Left Side which can be changed all at once! (Default is 415 - Seepz Bus Station which gets changed to 332 - Kurla Station West)
2. Convert to single headlight on each side (Animation 2) - This feature does not exist in reality but given by me incase if anyone wants to drive it with single headlight on each side because not all variants of double decker had dual headlights.
3. Openable windows (Animation 3) - All windows i.e. Passenger side and driver side except windshield partition
4. Rotatable arrow (Door open animation) - The classic arrow besides driver's door rotates outside.

Upper Deck view :
Additional effects to the above animations :
1. GPS shifts to upper deck (Animation 1) - Helping you to guide the bus properly.
2. Front Window rods shift down (Animation 2) - To get more visible area enhancing the experience.
3. Mirrors shifts to upper deck (Door open animation) - Helping you to guide the bus properly.

PLEASE NOTE -
Just like in reality, Double Decker cannot pass from all roads because of height restrictions, similarly in the game also it cannot pass from Pel. Merak to Surabaya due to height restrictions. However at other places, it is drivable.
The destinations, depot markings and no. plates are all fictional and bear no resemblance if those destinations currently exist or not or if the depot mentioned holds this bus model and that too in the same livery and the same bus no. in its fleet.

The route nos were selected so that both Western and Central Mumbai in suburbs as well as in city get covered.

OFFICIAL WEBSITE (MORE PICS) -
https://roadstarz.weebly.com/al-doubledecker-bussid.html

NOTE -
It is a .zip file because it contains 2 versions of the mod, 2 liveres and livery template. Most of the phones support opening of .zip file hence you can extract its contents.
If you are unable to open the .zip file on your phone, please download 'Winzip' from Google Play Store for free -
https://play.google.com/store/apps/details?id=com.winzip.android

Details about installation of Mod and Liveries are mentioned in the Readme file which you can view post download.

If you don't have this game but after seeing the Mod you are tempted to play, you can download Bus Simulator Indonesia from here (for free) :
https://play.google.com/store/apps/details?id=com.maleo.bussimulatorid

⚠️PLEASE NOTE⚠️ -
Please do not post any comments requesting other mods or to convert this mod to other games or suggesting us to create more liveries or changing of depot, destination, route no. of any livery.

ALL SUCH KIND OF COMMENTS WILL BE IGNORED!

⚠️IMPORTANT NOTICE⚠️ -
1. PLEASE DO NOT MAKE DUPLICATE COPIES OF THE MOD. SHARE THE ABOVE MENTIONED DOWNLOAD LINK ONLY! DO NOT SHARE THE FILES INSIDE THE .ZIP FILE SEPARATELY.

2. IF YOU ARE MAKING YOUTUBE VIDEOS OF THIS MOD, KINDLY MENTION 'SLZ PROJECTS' IN THE CREDITS.

IF THE ABOVE POINTS ARE NOT FOLLOWED, OUR UPCOMING MODS WILL BE PAID.

Subscribe to my channel to get first coverage of our next projects :
https://www.youtube.com/user/ArkXSLZ

If you like our creativity and would like to donate, you can donate to us on -
Paypal - slz.stylizer@yahoo.com
GPay - stylizer222@oksbi

It will motivate us and help us create more models ?

Dedicated to all the lovers and enthusiasts of Mumbai's BEST Buses ?

Hope you like and enjoy our creativity?
CREDITS: SLZ Gaming Projects
GAME: Bus Simulator Indonesia
CATEGORY: Bus
DATE: 2021-05-02 21:41:38

Live Report of Mumbai City's Ashok ...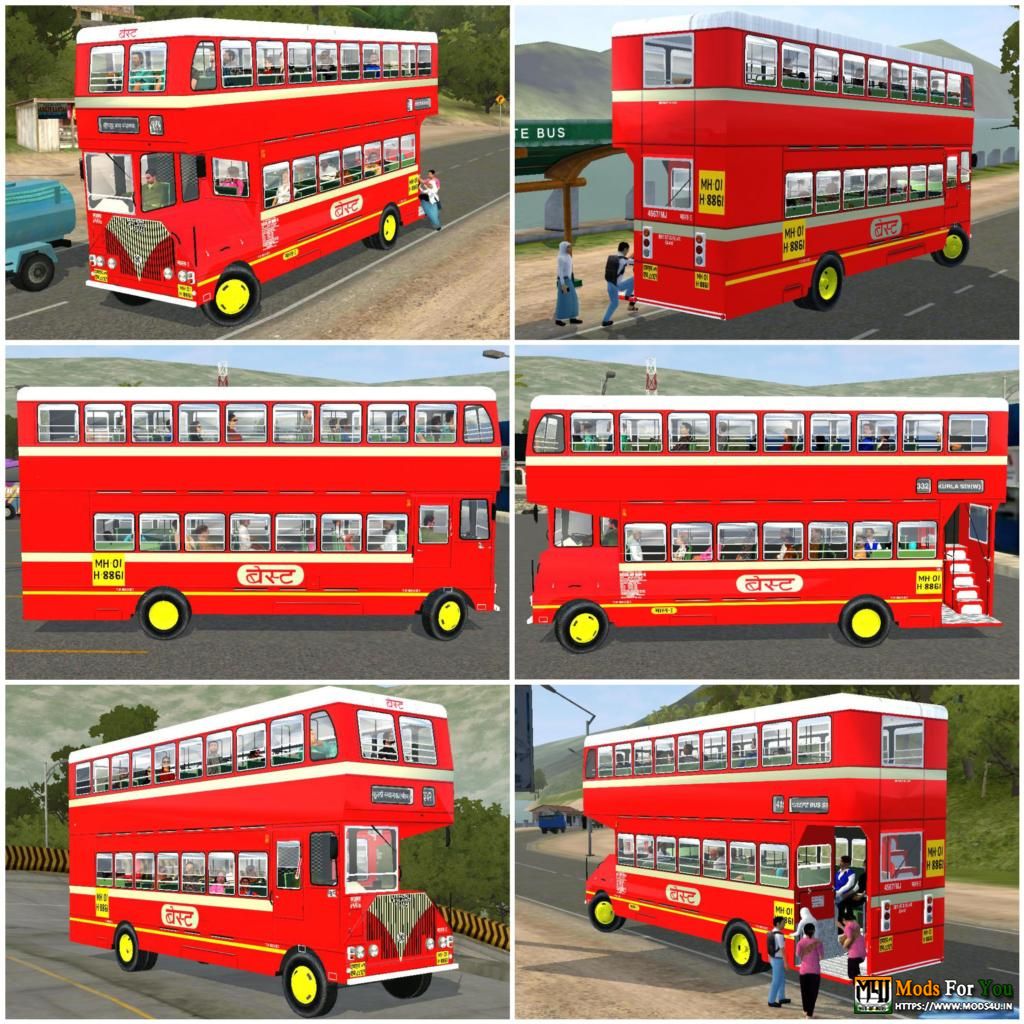 Uploaded 2 years ago     Downloads: 1381   
Likes: 131